| | | | |
| --- | --- | --- | --- |
| Contents | | | Blessed are the peacemakers Matthew 5:9 | |
Blessed are the peacemakers – Matthew 5:9 - Learning to be peace with ourselves
Readings

Matthew 5:1-10
Psalm 55 9:1-8, 17-20a, 23, 24e

Hymns and choruses used

Praise my soul the King of heaven
Great is the Lord and most worthy of praise
Come now is the time to worship
Let everything that has breath
This is the air I breathe
Blessed be your name
My song is love unknown
To be in your presence
Lord I lift up your name
(Short introduction)
Blessed are the poor in spirit, for theirs is the kingdom of heaven
Blessed are those who mourn, for they will be comforted
Blessed are the meek, for they will inherit the earth
Blessed are those who hunger and thirst for righteousness, for they will be filled
Blessed are the merciful, for they will receive mercy
Blessed are the pure in heart, for they will see God
Blessed are the peacemakers, for they will be called sons of God
Blessed are those who are persecuted because of righteousness, for theirs is the kingdom of heaven

Steve, thank you. We'll be thinking a lot about those words soon, but before we do that, I want to think back a few years, to when there was a Christian singer who became quite popular for a while - according to the Internet he's still on the go, although I haven't heard so much about him recently. When we were living in Dorset, I heard a lot about him and liked a fair bit of his music. He was called Don Francisco, and he goes to show how people - in this case me - can jump to the wrong conclusion. I heard people, friends in the church, saying "have you heard Don Francisco?" and I had this mental picture of a tall, sophisticated Italian nobleman.
Or maybe someone a little more dark and sinister…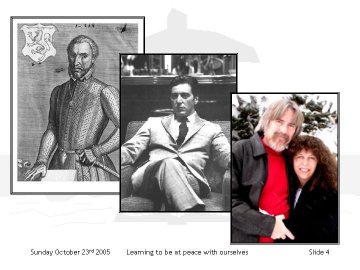 Then I heard some of his singing and it didn't seem to fit - he just didn't sound either Italian or elegant. Finally I actually saw him - a group of us came over to Portsmouth Guildhall one evening, and saw that he was in fact a rather large American with a very big voice. Don was his name, not his title! It didn't stop me enjoying his music, but it was quite a shock to find out what he was really like. Perhaps some here will remember his music. He did quite a few songs looking at Bible episodes from the perspective of one or other of the bystanders. A lot of them were brave and triumphant, very American, but the one I want to remember just now was called "Open Your Heart", and was based on the story of Nicodemus, the religious leader who went from meeting Jesus timidly at night to openly asking to care for his body. That song began, "My story isn't one of faith, it's one of doubt and shame".
I wonder what your song is? It's something we shall be revisiting a lot tonight, and I hope you'll let that thought echo a bit over the next few days, perhaps in your homegroups. Tonight we have heard, and we are going to hear, several different songs, several different voices. We've had the music group, and we've already heard Steve reading the passage from Matthew's gospel. In a little while you're going to hear Robyn-Jane reading an Old Testament passage. But as well as those very literal voices, right here tonight, as I speak there are going to be echoes of other voices more distant - you'll realise that some things I say are things I've heard from Ros, others come out of people I've met at Trinity College in Bristol. There will be voices of Christians and Jews of the past, voices from other countries. Truly none of us are individuals - we are members of a community, a body that spreads out both across the land here and now, but also back through time, and we need to let other community voices speak through us sometimes.
But it is also crucial to develop our own, unique voice as part of becoming who we are meant to be in God - Testwood believes in this, and so we have various ways to explore our individuality in Christ. It's all too easy for us to want to imitate someone else… when we should be becoming ourselves. Our life's work - the work of our discipleship - is to learn two things - how to sing our own special, unique song, and how to let that song be part of the wider chorus of our community, how to blend harmoniously with others. It's a work that we will not complete in this life, but we can make a good start! The Ancient Egyptians said of their blessed dead that they were "true of voice" - they had finally learned to truly speak - to sing - in the way they were meant to. In the end, we only get to speak in our true voice on the other side of death and resurrection, but we can learn in this life to speak and to sing a little closer to it. What is most important - what is indeed absolutely crucial for the health of a Christian church, is that we allow all kinds of voices, all kinds of songs, to join in our church life. One of the striking features of the older denominations is a remembrance of the cycle of the year, the cycle of human life, through its different seasons. This means that as well as the feasts we join in the fasts, as well as the celebrations we join in the laments. Recently there has been the Jewish feast of Rosh Hashanah, the start of the year. After that, the fast of Gdalia, then the two very solemn days of Yom Kippur, the Day of Atonement, then just last week Sukkoth, Tabernacles or Booths, a celebration again. Now we Baptists have largely discarded liturgical seasons and the cycle of the year - I often wonder if that is a greater loss than we think - and so it is doubly important that we strive to encourage all kinds of voices, the sweet and the sorrowful, the celebrating and the sombre, the successful and the striving.
Now, our main thought for tonight is "Blessed are the peacemakers". When we hear the word "peacemakers", I wonder who comes to mind? I looked on the web site for the Nobel Peace Prize, and looked at the names there. Jimmy Carter, Kofi Annan, Yasser Arafat, Shimon Peres and Yitzhak Rabin, Mother Teresa, Martin Luther King, others longer ago. Or you might think of less well-known people who have laboured for peace in Rwanda, Ireland and other parts of our troubled world, perhaps people you have personally prayed for. Or intercessors in human difficulties, perhaps in industrial relations, like the organisation ACAS, or RELATE, assisting with marriage difficulties? Now, I do not think that is what Jesus had at the front of his mind when he said this. If you think back to Andrew's introduction to this series, Jesus' audience was a large group, a whole mixture of people - disciples, farm workers, teachers of the law, craftsmen and women, Pharisees, merchants and shopkeepers, soldiers, lepers, every facet of first century life in Palestine. Perhaps there were a few international politicians of the age in that crowd, but my guess is that there were not very many. His words were for everyone there.
It is very typical of the Bible that these sayings are introduced by way of a story. Those of you who joined me for the Old Testament writing course will remember that this is very common in the Old Testament. Things like laws, choices, God's view on life, are introduced there not as bald statements or as a kind of Haynes workshop manual for humans, but by way of a setting, a conversation or meeting between people. It is the same here. The ancient world - just like the modern one - had lots of literature that consisted of lists - lists of places, warriors, kings and so forth, and we have a few of those contained in the Bible. But really important information is always introduced as part of a wider picture, it is introduced by way of a personal, family or social setting. So it is here - we are told where Jesus was speaking, how he got there, who was with him, the people's reaction, where he went afterwards. Why is it done like this? I think the main reason is that it draws us in, it helps us to feel one of the group. Because it is told as a story and not a rule-book, you and I are each listeners in that crowd. Because it is told as a story, each of us has a different viewpoint on what is important. Because it is told as a story, each of us can lay hold of these words in different places in our soul. Because it is told as a story, we all have something to contribute to the process of making these words come true in our lives, in our families, in our world.
So, how are we to understand these sayings, the Beatitudes? According to the dictionary the word Beatitude means, "Supreme blessedness or happiness", and so because each phrase begins with the word "Blessed" we get the overall name. The New Testament word for blessed, Makarios, is still in use today as a name in Greece.
Psalm 23:6
Surely blessedness and mercy will attend me
all the days of my life,
and I shall recuperate in the house of the LORD
for everlasting days.
The word Jesus would have spoken, the Aramaic or Hebrew word towb, is also used by David in Psalm 23. The boy's name Toby comes from this word. Blessedness and mercy will attend to David during his earthly life, he says, and once that has ended, in the days of forever, he will dwell in the LORD's house. I wondered, as I looked back at Psalm 23, whether this was one of the Old Testament passages Jesus had in mind as he delivered this sermon.
Andrew spoke of the Beatitudes as distinctive lifestyle markers for the Christian, "Keys to Good Living". I want tonight to think of them as discipleship aims. All of them are processes that we work on, not achievements we can tick off once we've made the grade. They are key in the sense of crucial, not key in the sense of something we have in our pocket. As discipleship aims, we can see why there is this "now and not yet" feeling to them. I may hunger and thirst after righteousness a little bit - at least on a good day - but surely I could be doing that much more intensively and faithfully! And the same with the others.
I want us tonight to think of these sayings (and indeed this whole sermon of Jesus, Matthew chapters 5 to 7) as a New Testament commentary on the Old Testament law, the Torah. One of the saddest misunderstandings of the Christian church over the years has been our use of the word Law to stand for Torah - it suggests to our rebellious minds something that is basically mean-spirited, and is only there to be broken or avoided, a bit like a speed-camera when you're driving. Torah is something different - more like the life habits we learn first from our mother and then other family members that teach us how we do things together. Think for a moment what it is like going into another family home. There are little unexpected surprises - we find ourselves thinking things like "why aren't they helping to do this?" or "how nice that they do that for each other", "why do they speak like that to her?" And so on. The way they speak to each other, the way they sit and talk around the dinner table - or the fact that they don't - all of these things are house rules - they are not written up on a list, but the members of the family have learned that that is how things are done. So it is in the Christian faith: Torah tells us the house-rules of our new family.
Now, to be sure there is an attitude to Torah that both New and Old Testament tell us not to have - that is legalism, the attitude that strict obedience to a list of laws will make God approve of us. That is legalism, and both Old and New Testament oppose that and promote the operation of grace. Legalism thinks it can compel God to be nice to us because of our own efforts; it's a feeling that we deserve good treatment on the grounds of good behaviour. But Torah - law in its true Biblical sense - is good, and affirmed as such by Jesus and all the New Testament writers. Jesus' teaching is filled with Torah, illuminated by it, has living breath breathed into it by Torah - all those principles, those keys for good living, that we need to learn in our adopted, Christian family. Torah is not legalism.
All these matters of Torah, Law, are good principles for the world at large to live by too, and indeed the world is a better place to the extent that these things are done. But they do not give you or anyone else salvation. I remember an old song "You'll never get to heaven…" Perhaps some of you also know it - especially people who have been in the Scouts or Guides, who seem to have kept it going longer than the rest of us. There were dozens, hundreds of verses, depending on the personal whim of the singer - and all pretty sound theology! "You'll never get to heaven… in a bottle of gin… you'll never get to heaven… in an old Ford car" An Old Ford car has its uses to be sure… but getting to heaven is not one of them. Torah - law in its best and highest, most Godly, sense, is a splendid thing, a magnificent thing, it is a gift of God… but it will not get you to heaven. It was never designed to do so. It is a good thing to act justly, to love mercy, to bless your enemy, to care for the widow and the orphan - this is the daily living-out of true religion. It's good not to have hatred in your heart, good to have gentle speech on your lips… but these things will not get you to heaven. Only grace and the work of God can do that.
We're coming to the end of this series on the Beatitudes now - there's just one more in fact, to be given by Les next week - and I wonder what your expectations are about the conclusion. We tend to arrange things nowadays to highlight two things - a big grand opening, and a big grand conclusion. So a television series starts with a particularly spectacular pilot episode to whet your appetite, and ends with an even more spectacular finale… especially if there's another series planned in the future, and the writers need to make it stick in your mind until next year. There's a feeling that you, the audience, really need the start and the end to be gripping. The less exciting episodes are put in the middle where your enthusiasm for the series will carry you through, and our busy minds can relax for a bit before gearing up for the climax. The edges, the boundaries, are important for us to get right. We are a bit uncomfortable with endings, so we want to have a promise of continuation to hang on to. Not so in the ancient near east! There was not the same preoccupation with starting and ending, and there was great appreciation of the middle as the core, the heart of the matter. Let me just put up a slide for a moment of the passage that Steve read for us, with some colouring so we can see what's going on.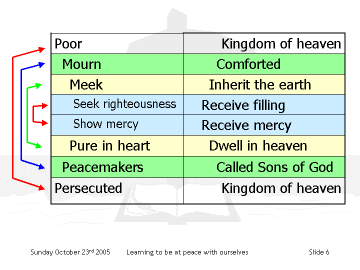 In his introduction, Andrew referred to the use of the phrase "kingdom of heaven" as a frame for this passage, and it's a good word, But the parallels go deeper, right the way into the middle like rings of an onion or like nested Russian dolls. Look at what we have here. Round the outside, the poor and persecuted, those who in one way or another are rejected by the world, are promised the Kingdom of Heaven. Then those who mourn and those who are peacemakers - well, they're the subject of tonight so I want to come back to them! But briefly, they are to do with how we reconcile ourselves to the hurts of the world, and what we receive is affirmation that those hurts will - one day - be over. Then the inner qualities of being meek and pure in heart, who inherit the earth but see God in heaven - all of creation, depths to heights, is promised to them. Then at the centre, there are the qualities of giving - labouring for righteousness and seeking mercy for others - and quite appropriately, those who give are promised that in time they will receive, they will be filled.
Again, those who worked with me upstairs on the Hebrew course at the start of this year will recognise this as a poetic scheme that we call chiasmus. We looked at some examples in the Psalms, and some of us wrote our own poems based on this principle. It's a bit like first preparing and then playing a game of pass-the-parcel - we wrap the ideas up towards the centre, and then unwind again peeling off the layers as we move away from the middle. The outside - the frame - tells us what the arena is, what pitch we're playing on… the centre tells us what the heart of the game is, what the most important thing is to remember. Here is Jesus, soaked in the Hebrew way of thought, using this same poetic principle himself!
So we can immediately tell that the principle of being empty, being in need, longing and striving for the outworking of God's kingdom, hungering and thirsting for righteousness and being merciful… and then receiving those things from heaven's supply - that is what being a disciple in God's kingdom is all about. That is what our Master put at the heart of this passage. Moreover, as we work our way from the inside towards the outside frame, the pairing of items with each other tells you something more about both. So in particular, being a peacemaker is set in parallel with mourning, with grief. Why is that? Why is not peacemaking linked with celebration? That is what I want to talk about tonight, not international politics, not industrial relationships, not even the blessed ministry of helping people to make their own personal peace with God.
I said earlier that these sayings were about how we journey the road of discipleship. So how does that fit with peacemaking? Can we all be peacemakers? Well, we can't all be actively helping to end strife in the wide world, but yes, in some ways each of us can be working towards good relationships in our families, friendship groups, churches, at work and so on. But that's not what I think Jesus is calling our attention to tonight. What would the word "peace" mean to Jesus? His human thought-world was that of the Hebrew Bible, what we call the Old Testament. There, peace - shalom - has a very positive feel.
Peace
Hebrew – shalom
"a complete state of well-being and settledness, soundness and welfare"
The same word - shalom, or salaam depending which country you're in - is still used today as an everyday greeting and blessing as people meet in the Middle East. It is not just the absence of strife, but the positive qualities of wholeness, completeness, well-being, settledness of the whole person - extending out to the whole community or the whole society. Is that what we experience? Let's think very personally tonight, let's think each one about our own discipleship road. Are you at peace? Am I?
Certainly the Bible talks about believers being already at peace with God, about Jesus being our peace… but that is just one side of the coin. That is looking from the perspective of heaven, the perspective of eternity. But we're not there yet! We're here on earth, walking the road of discipleship, and the reality of the everyday Christian life is that we are not at peace in every area of our soul. This is the "now and not yet" of the Christian - in one sense we have peace now, we have it as a secure promise and eternal possession… but in another sense we do not have it yet, it is a thing still to come. I know there are areas of my own history, there are areas of my own soul, with which I am not at peace. Parts of my thought life, parts of my emotional and spiritual life, are restless, uneasy, disquieted. Worse still, some parts that I like to think of as at peace are not in fact truly peaceful in a deep, profound sense, but only on the surface, as a public mask. I can wear such a mask, but of course I have a Father, I serve a Lord who knows exactly the true depths of my heart. Now, although I cannot speak for anyone else here, my guess is that, in fact, many of us here are troubled, at unpeace with ourselves. I believe that to be true of this my church… I am absolutely certain it is true of this our community. The difficulty we have is knowing how and with whom to share our troubledness with.
Why do I think I'm not alone in this? Well, for one thing, there are a lot of books in our house. In my area of the bookshelves, there's a good sprinkling of books on ancient history, languages, Hebrew and the like. Great stuff. But of course I am married to a counsellor, and Ros' library has books with titles like Loss, Separation, Post-traumatic Stress Disorder, Remembering Trauma. In case there's any doubt at all about this, I want to emphasise that all of these things, every one of them and more, are suffered by Christians and not just unbelievers. There's nothing about the fact of being a Christian that will make you immune to the pain of disappointment, failure, personal sin, the cruelty or indifference of others, the particular way in which your passage through a fallen world will have left its marks on you. Indeed, being a Christian should make us more vulnerable to these things, more willing to allow suffering to impinge on us. Some of our brothers and sisters, here and elsewhere, will be coming to terms with their own history for years. Let's be absolutely clear about this - this is not any kind of failing or flaw in their Christian life - this is their Christian life, this is the road of their Christian discipleship.
But as well as the testimony of modern-day authors and modern-day Christians, we can look back at the pages of the Bible and see the experiences of believers then. Paul, in Romans 7, writes in some anguish "what I want to do I do not do… I have the desire to do what is good, but I cannot carry it out… evil is right there with me". I have to confess that I don't always get on with Paul as a writer, and I think he would rather frighten me if I had actually met him - but here there is a stark honesty that one has to respect. But as most of you know, it's the Old Testament, the Hebrew Bible that really stirs my soul, and so I want us to listen to some parts of a psalm of King David. I've omitted the verses that describe the cause of David's unpeace - that has to do with personal betrayal of some kind - and I want us to focus on David's state of mind. I've asked Robyn-Jane to read this, but not, I hasten to add, because I think she's more prone to this frame of mind than any of the rest of us! I've asked her so that her voice can be part of tonight, just as Steve's was earlier. So here is a reading from Psalm 55.
Reading - Robyn-Jane - from Psalm 55
Psalm 55:1-8, 17-20a, 23, 24e
Give ear, O God, to my prayer,
and do not conceal yourself from my plea for grace.
Lean over to me and answer me -
I prove restless in my anxiety and am unquiet
at the voice of my enemies, in the face of the pressure of the wicked,
for they shake down on me sorrow
and in every breath cherish ill-will against me.
My heart writhes in my inmost being
and deathly terrors have dropped on top of me.
Trembling fear has invaded me
and I am overwhelmed by shaking.
And I cried out, "Ah, who will give me wings
like the dove, that I could fly away, that I could rest.
Look! I would slip fluttering far away,
would take shelter in the wilderness,
would hasten to a haven that is mine
out of the storm of the rushing tempest."
…
Surely I to God will cry out
and he will be a saviour to me.
At dusk and at dawn and at day's height I will grieve and I will groan
and he will hear my voice.
He ransomed into peace my soul from the war about me -
surely in droves they stood against me -
he will hear - ever God -
and he will make answer to them -
and he has been enthroned from of old.
…
Unload onto Yahweh your burden - surely he can contain you,
he will never permit, even to eternity, the shake-down of the righteous.
…
But I, surely I will trust in you.
Now, there was a man not at peace, but more than that - there was a man willing to confess to it, to take the risk of opening up his inner turmoil for others to see. He describes here in painful detail his symptoms. About 3000 years later, we can still benefit from his courage. I learned an interesting thing from Ros recently. It is this: year by year, decade by decade, there is a steady increase in our feeling of shame, a steady growth in our inability to do or say things that might shame us in front of other people. Little by little, we are becoming less willing to expose neediness, pain, wrongdoing in front of others. We feel embarrassed if people publicly show strong feelings - except for happy ones. We become awkward if we accidentally witness someone's pain. Shame increasingly inhibits the quality of human relationship.
Andrew spoke of ways in which the Christian lifestyle needs to become clearly, measurably different to the lifestyle of the world around - here is one way. In a world becoming ever less willing to seem frail, imperfect, human… how willing are we to expose our faults, our failings, our humanity? Am I willing to show you where I don't measure up? If I do, will you take me in or turn me away? Are you willing to show me? Are we together willing to lovingly uphold those who confess their failings in front of us? Are we promoting a safe place, where pain, hurt, wrongdoing, loss, can be recognised, where the suffering voice can be heard? Not with ready solutions or quick spiritual-sounding answers, but with a willingness to abide with the pain of the other, to walk with them along dark and difficult roads of discipleship. In the Old Testament book of Job, three friends came to be with him when they heard of his very great distress. Now, in books on the subject you'll find them called "Job's Comforters", and these words have come to mean someone who offers false help, a person who makes a problem worse instead of better. But perhaps the best thing they did, before they started to give him unhelpful reasons why things had turned out the way they had, was to sit with him, in the dust and the distress, for seven days and seven nights in silent sympathy. Sometimes on dark passages of the soul we need the presence of another human being with us, even if we don't want or need their words, even if they don't feel able to offer concrete help. Human companionship, Christian fellowship in the pained places of the earth is a wonderful thing, and one which any of us can offer.
What else are we doing as a society? Well, part of our growing refusal to face shame is a growing desire to seem perfect. We want to show the world we're OK, we've made it, we're happy. Of course the ways we show this are different at work, at home, at church, on holiday, but on the whole we want to present a good face to the world. A recent film showed it like this: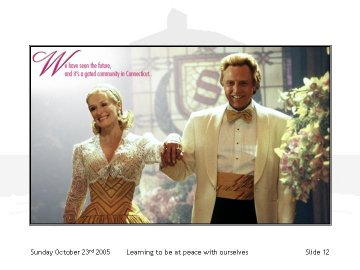 Of course, that film - the Stepford Wives - was focusing on family and marriage relationships, and to make the point in a very obvious, visual way, everyone looked thoroughly splendid. They looked gorgeous in fact, as a mask for the problems under the surface. But we do this too in all kinds of ways, not necessarily with elegant clothes. It's easy to see all this happening in other places, isn't it? At work, perhaps, where we try to - and perhaps for continued employment we need to - be seen as efficient, together, organised all the time. But it can so easily happen inside a church, too. I've heard criticisms from within the Christian community - maybe you have too - that some of the purposeful programmes that churches run are trying to make us into Christian Stepford Wives and Husbands, polishing up the way we look without really getting to grips with the darker and more difficult parts of our souls. Because, when you look underneath the bright exterior, past the masks we all tend to wear, then for many of us what is beneath the image of public perfection is this: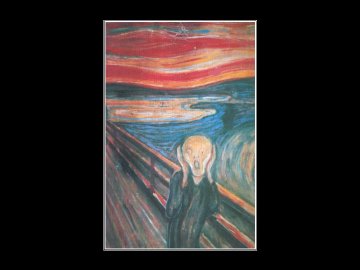 Living in a fallen world has done this, to very different extents, to all of us. You and I, the people we meet, the people we hope to meet as we go out with the gospel into our communities. We have sinned in word, in deed, and in what we have left unsaid and undone. We have been sinned against, in word, in deed, and what has been left unsaid and undone to us. Our individual path through life, our family heritage, our national history, all of those things have left marks. Some parts of our history have been for good, have built up positive discipleship habits. Others have been bad, have crushed or wounded us, have steered us towards ungodly habits. I'm labouring this for a very specific reason - being a peacemaker for every one of us means being willing to get to grips with the parts of us that are at unpeace, that under the smooth surface are crying out like this. Let me illustrate what I mean with a couple of examples from my own life. Some humour first. Now, some folk are really good with do-it-yourself - whatever they do looks good, it works first time, it lasts for years. Not me.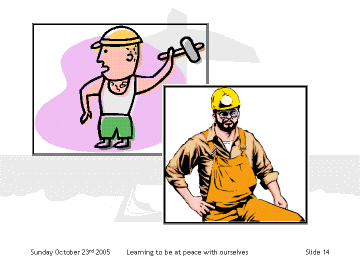 If you want a psalm translated then I'll be delightfully happy, but if you want a roller-blind up in your kitchen then that's another story. All those competent, intimidating guys and girls in orange aprons at B&Q look pityingly at me. Now, of course, I can't avoid these dreadful tasks for ever in our house, and when the unavoidable moment comes I get thoroughly demoralised. It bothers me much more than it does Ros (fortunately, perhaps), but when I have to tackle one of these handyman jobs then this huge area of disquiet and gloom rises out of the place where I can hide it most days. The most recent time I tried it, I carefully measured everything out, marked it up… and then cut it at completely the wrong place, nowhere near where I should have done. It was desperate. In this area of my life, I can't even honestly say that I'm working to improve things - I mean, I can always tell myself it's not really very important in the grand scheme of things. My livelihood does not depend on it. Who really cares about kitchen blinds anyway?
So let's turn to something a little more serious. This person -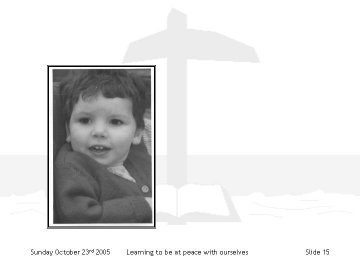 is someone that none of you have ever met. She became extremely ill and was hospitalised when I was only 2 or 3 years old, and she died in my late teens. She is my sister. Now, until earlier this year, if you had asked me, I would almost certainly have told you I was an only child. Only a tiny number of people to whom I was particularly close knew about her at all. Now, there was an element of truth in what I said, in that as I grew up, this person - Heather - was not around in our house, and so did not play any obvious role in my childhood. But at the same time, it was untrue, and my saying that was because of shame, because a short easy answer was less embarrassing than a long and harder one. I could convince myself that her absence had not really affected me very much. What I learned earlier this year, as part of my own discipleship road, was that that was not true. My relationships with others, my relationship with myself, my relationship with God, were all affected by this fact of my life. I'm realising that it does not take very much for feelings of aloneness, isolation to start to well up in me. I cannot yet tell you that I am completely at peace about this - but I can tell you that the process of peace-making surrounding this part of my life has begun. I am engaged with becoming a peace-maker in this area, rather than being detached from it. I am learning, at least in this area of my life, to be at peace with my soul about it, to be more at peace with my own history.
Why am I telling you this? Because every one of us here in this room will have something similar, I believe. This facet of my own past is, to be sure, a tragic thing for my whole family, but it was a thing that happened because of the fallenness of the world. I do not think it was the result of anyone's sin. It was nobody's fault. But some in this room, I suspect, and many outside this room, have had terrible things done to them, or perhaps have done terrible things to others. Learning to be at peace about that is a much more difficult task, one that a person has to revisit many times. It is not a thing that gets resolved as if by magic just because you become a Christian.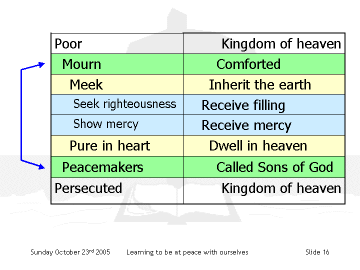 ---Slide 16
This brings us back to mourning, the Beatitude quality that Jesus carefully twinned with peacemaking. You see, learning to be at peace with some part of our history always involves a process of grieving. You may have to give up fantasies of getting something back, of retrieving lost innocence perhaps, or obtaining revenge. You may have to give up attitudes of heart and mind, patterns of behaviour, that are built on your loss, disappointment or sin rather than on the principles of the Kingdom of Heaven. You may have to give up pride. You may have to give up things that at the time seem very precious and important to you.
When a country makes peace, it has to make concessions - perhaps surrender territory, or submit to an occupation, or make efforts to rebuild things that have been destroyed. When two sides in an industrial dispute make peace, both have to make concessions, yield ground to the other - because the fruit of peace is better than the fierce desire to hold on grimly to what you have. How can we think it would be different on a personal level? When we make our peace with God, we give up ownership of our heart to Him, and little by little learn to give up larger parts of our life. When we make our peace with parts of our own history, the pains, sins and sorrows of our lives usually have to be mourned, grieved over and given up. It is, I believe, a bad choice to try to avoid this, but especially for Christians, it can be tempting to try to avoid it, to cling to the promises of heavenly peace in order to avoid the call of being an earthly peacemaker. The discipleship road is - in part - learning to be a peacemaker with yourself, with the twists and turns your own soul has taken on the journey so far.
So, what does it mean to say that peacemakers are to be "called Sons of God"? Doesn't any Christian become a child of God at the moment of conversion? Doesn't each of us have the assured right to call God Himself his or her Father? Again, yes, all of that is absolutely true… from the perspective of eternity. But we do not live, all the time, to the utmost of our ability, as though we were Sons of God. None of us are living up to our calling in the way we should. By applying ourselves to our discipleship, we become more fit to be called Sons of God. In heaven, praise God, I am and always will be a Son of God - on earth I can apply discipleship principles in order to act more like one.
But I think that more than that, this verse is telling us about affirmation. Jesus does not say that being a peacemaker will make us Sons of God, he says we will be called Sons of God. Called that by whom, I wonder? Called that, perhaps, by our fellow-believers as they see us walking our discipleship road? Called that, perhaps, by the world at large, as this aspect of our Christian life becomes evident, and the day-to-day reality of our salvation is worked out? Or called that, perhaps, by our Father in Heaven, who whispers words of encouragement by the Spirit, the Lord, the Lifegiver, as we walk in the way he has shown? Both peacemakers and those who grieve need to hear affirmation - verse 4 told us that those who mourn will be comforted, and this verse tells us that peacemakers will be affirmed in their calling. In both cases, what they - what we - need is to hear the word of reassurance, of consolation, of encouragement.
How, then, do we begin to make peace with our selves, with our history? I hope we all want to be able to go out from here tonight and make a start on this. But sometimes it's not easy to know where to start, and so I want to suggest a couple of practical ways in which we can do this, can proceed with the business of making peace with ourselves. I dare say that some here already have a good idea where they're not at peace - maybe are already walking a difficult road towards peace of mind and spirit. But for many of us, the problem is trying to find something concrete with which to start. A good plan is to find a group of people amongst whom you feel safe, and by whom you will be lovingly challenged to walk as a disciple. Of course, it can be quite hard to find the right group for you, but I am convinced that somewhere, for each of us, there is a right group. Many of you will have guessed that the environment within which I started to get to grips with Heather was a Get Real! course, but I'm not really here tonight to advertise Get Real!, and other people will each find their own situations that are best for them. Some people will need a setting with a very high degree of trust and confidentiality to explore their past.
There's a lot you can do on your own, or with a friend or partner who is willing to help you. Usually you need another person to give feedback - as Jeremiah said, the heart is deceitful above all things, and even if your heart is not trying to actively lead you astray, it is often very reluctant to tackle the hard tasks of discipleship. Another person can help by giving objectivity. What you have to ask yourself is, what patterns can I see in my life so far? What do I mean by patterns? Well, as a rule the areas we need to make peace in, make themselves known when we repeat some kind of life situation. Indeed, many times we keep on repeating it over and over until we learn how to cope in a godly manner. It has been said, "those who do not learn from history are condemned to repeat it", and that applies as much to the individual as it does to the nation. Think back to Psalm 55 - I wonder what had happened to David previously that this situation had such a crushing impact on him? The symptoms he describes were triggered by betrayal, and if you read through his life you will see that he had to face betrayal over and over again. For him, this was a pattern he relived many times, and perhaps every single time felt this terrible to him.
What things are there for you, I wonder, that bring out a reaction that seems out of proportion? What patterns are there in your life? Some people, for example, are great at starting things, but after a few months, or a year, they lose heart and move on to something else. Something, some life experience, has taught their heart to give up too easily. Others might doggedly cling on to doing something for way too long - their heart has never learned to let go of things. Maybe you are overwhelmed by fear at going into new situations, or meeting new people. Maybe you are most easily led into sin when you are alone… or maybe in a crowd of peers. Maybe the way certain people look, or speak, or the kind of person they are, brings up unexpectedly strong reactions in you. Maybe there are particular times of year, anniversaries of crucial events. All of these, and lots more besides, are patterns of behaviour that are windows into the unpeace in our souls, opportunities for becoming a peacemaker with our own history.
(Here followed short descriptions of two tools adapted from
Get Real!
material, the first based on looking across the span of your own life, the second looking at wider family issues.)
Now, of course we don't have to repeat family patterns, especially not once set free in Christ, but if those things represent a weakness, a vulnerability in your family, then you had better be aware of them so that you know how and when to be careful, what kinds of thing might be a snare to you. Your family history shaped your early life: it might well still be shaping your life today. We are indeed made new in Christ, we truly are new creation… but right now we are living in the "now and not yet" of life on earth, redeemed but still on the road of discipleship. Following that road is the earthly task of the Christian, and part of that road is learning to make peace with our souls, with our personal history. These are simply some practical tools for exploring your soul.
In the book of Proverbs, chapter 25, it says:
Proverbs 25:2
The glory of God is the concealment of a matter
and the glory of kings is to examine a matter
This one verse captures so much of the gospel, the eternal and the earthly, the work of God and the work of His people. This Hebrew word glory, kabod, is a powerful one. It literally means weight or heaviness, and thus duty, responsibility. We use the word gravity nowadays to combine the ideas of weight and importance, and there's a similar idea here.
Glory
Hebrew – kabod
"Weight, honour, importance, and so holy responsibility"
We talk today about feeling the weight of responsibility: glory is the weight of holy responsibility. Truly, the work of God, His holy responsibility, is the concealment, the covering over of our sin. Only He is both entitled and able to cover it over in the face of eternity, in the face of His Son, our Lord Jesus Christ. The work of kings is to search out, to examine matters, to explore them, to go on questing for the truth.
That same word, examine, châqar is used in the Book of Lamentations, chapter 3:
Lamentations 3:22, 23, 40
The mercy of the LORD is that we are never finished -
never exhausted His compassions,
new for every morning!
Great is Your faithfulness!
…
Let us search out our ways and examine them
and let us return to the LORD.
Psalm 55 shows David aware of his own frailty, at the end of himself. He is searching out his ways and he is seeking to return to the LORD, enthroned from of old, who has already ransomed him into peace, who is able to contain all that we are and guard the righteous for all eternity. I don't for a minute think that David suddenly stopped feeling his pain, but he had - and we have - an enduring hope to set alongside it. Let's think again about the nature of our individual song. David's song easily resonates with betrayal, flipping between passionate trust in God and fierce anger against other people. My song easily resonates with aloneness, easily slips into a minor key. What about you? I wonder what your personal song is like?
"The glory of kings is to examine a matter" - what does that have to do with us?
Proverbs 25:2
The glory of God is the concealment of a matter
and the glory of kings is to examine a matter
Dear friends, we are a royal priesthood in the Kingdom of God. We are kings under our Great High King. The qualities of the best of the kings of ancient Israel are exactly the ones that we should be cultivating. It is our glory to investigate these things, our responsibility, our discipleship duty. I don't know for each of us here what that will involve, what aspects of the old self each of us will have to search out and examine: I do know that each of us has to return to the LORD our God. Three weeks ago, when Andrew was leading us through the consequences of verse 4, "Blessed are those who mourn", he quoted a poem: "All shall be well, and // All manner of thing shall be well". I want tonight, as we draw to a close, to move on a few lines in that same poem, near the end of TS Eliot's Four Quartets:
With the drawing of this Love and the voice of this Calling
We shall not cease from exploration
And the end of all our exploring
Will be to arrive where we started
And know the place for the first time.
For many of us that exploration, that walking of the discipleship road, will be hard, will seem unbearably hard at times. It usually gets harder before we win through: for us, as for Jesus, crucifixion comes before resurrection - but resurrection is an absolute promise for the Christian. I want to say again what I said earlier: that to be walking a hard road is not a failure of the Christian life… rather, it is the Christian life. Where we know brothers and sisters who are walking a road like that, let us be among the first to fulfil the promise of this verse. Let us affirm them as children of God as they wrestle with the angels God has sent them, and let us, like them, strive to arrive where we started and see it with fresh sight.
---
Appendix – Readings
Matthew 5:3-10
Blessed are the poor in spirit, for theirs is the kingdom of heaven
Blessed are those who mourn, for they will be comforted
Blessed are the meek, for they will inherit the earth
Blessed are those who hunger and thirst for righteousness, for they will be filled
Blessed are the merciful, for they will receive mercy
Blessed are the pure in heart, for they will see God
Blessed are the peacemakers, for they will be called sons of God
Blessed are those who are persecuted because of righteousness, for theirs is the kingdom of heaven

Psalm 55:1-8, 17-20a, 23, 24e
For the choir director, on strings, a contemplation of David
Give ear, O God, to my prayer,
and do not conceal yourself from my plea for grace.
Lean over to me and answer me -
I prove restless in my anxiety and am unquiet
at the voice of my enemies, in the face of the pressure of the wicked,
for they shake down on me sorrow
and in every breath cherish ill-will against me.
My heart writhes in my inmost being
and deathly terrors have dropped on top of me.
Trembling fear has invaded me
and I am overwhelmed by shaking.
And I cried out, "Ah, who will give me wings
like the dove, that I could fly away, that I could rest.
Look! I would slip fluttering far away,
would take shelter in the wilderness,
would hasten to a haven that is mine
out of the storm of the rushing tempest."
…
Surely I to God will cry out
and he will be a saviour to me.
At dusk and at dawn and at day's height I will grieve and I will groan
and he will hear my voice.
He ransomed into peace my soul from the war about me -
surely in droves they stood against me -
he will hear - ever God -
and he will make answer to them -
and he has been enthroned from of old.
...
Unload onto Yahweh your burden - surely he can contain you,
he will never permit, even to eternity, the shake-down of the righteous.
...
But I, surely I will trust in you.